LTE private network industry solutions
Committed to providing customers with comprehensive solutions for wireless optimization, transmission, and access
Keywords: mobile communication equipment
online message
Product Details
---
private networkTD-LTE micro repeater
Technical Specification
1,
RF technical indicators
Project

Indicators

Uplink Reverse

Downlink Forward

Operating frequency (MHz)

1785-1805

Output power (dBm)

13/17/20/23±2

13/17/20/23±2

Maximum Gain (dB)

70±3

70±3

Automatic Gain Adjustment (dB)

≤ | ± 2.0 |

Automatic Gain Adjustment Range (dB)

0 ~ 25

Noise figure (dB)

≦ 6dB

In-band ripple (dB)

≤ 4.0/20MHz

standing wave ratio

≤ 1.8

Delay (us)

≤ 1.5

Spurous emission (dBm)

9KHz~150KHz

≤-36/1KHz

150KHz~30MHz

≤-36/10KHz

30MHz~1GHz

≤-36/100KHz

1GHz~12.75GHz

≤-30/1MHz

Third-order intermodulation (dBc)

≤-36 (dual tone 20MHz)

Spectrum Emission Template

0.05MHz≤f_offset<5.05MHz

≤-7-7/5 × (

f_offset-0.05)dBm/100kHz

5.05MHz≤f_offset<10.05MHz

≤-14dBm/100kHz

10.5MHz≤f_offset<f_offsetmax

≤-15dBm/1MHz

vector amplitude errorEVM(%)RMS

64QAM

≤ 8%

frequency error

≤ 0.05PPM

Total switching time (μs)

≤3

Synchronization range

≥ 30dB

RF connector type

SMA(f)

Impedance (Ω)

50

Power

AC100 ~ 240V; 50~60Hz

Device power consumption (W)

≤ 15

Working temperature (℃)

-30~ 50

Working humidity (%)

≤ 85
2. Features of products
2.1, gain automatic linkage function:The automatic detection device receives a signal, automatically sets the uplink gain of the device after tracking the downlink gain of the device, and always keeps the gain of the uplink of the device less than the signal attenuation to the base station, thereby ensuring that the mobile network is not interfered and increasing the number of devices used by the base station.
2.2. Self-excitation detection function: The device supports automatic detection of the isolation function of the transceiver antenna, supports automatic adjustment of the device gain function, supports the status indication function, and supports the device protection function, so as to avoid network interference caused by the introduction of the device.
2.3, digital automatic output power adjustment function:Ensure that the device maintains a stable output power when the external signal fluctuates. Meet the coverage requirements.
3、Overall dimensions and structure diagram:
3.1, overall dimensions
| | | |
| --- | --- | --- |
| Test Item | Technical indicators | Remarks |
| Appearance | White | |
| Weight (Kg) | ≤ 1.0 | |
| Structure size mm | 169× 100× 28 | |
| Installation Fixed Hole Pitch Dimensionmm | 84 | |
3.2. Refer to the outline drawing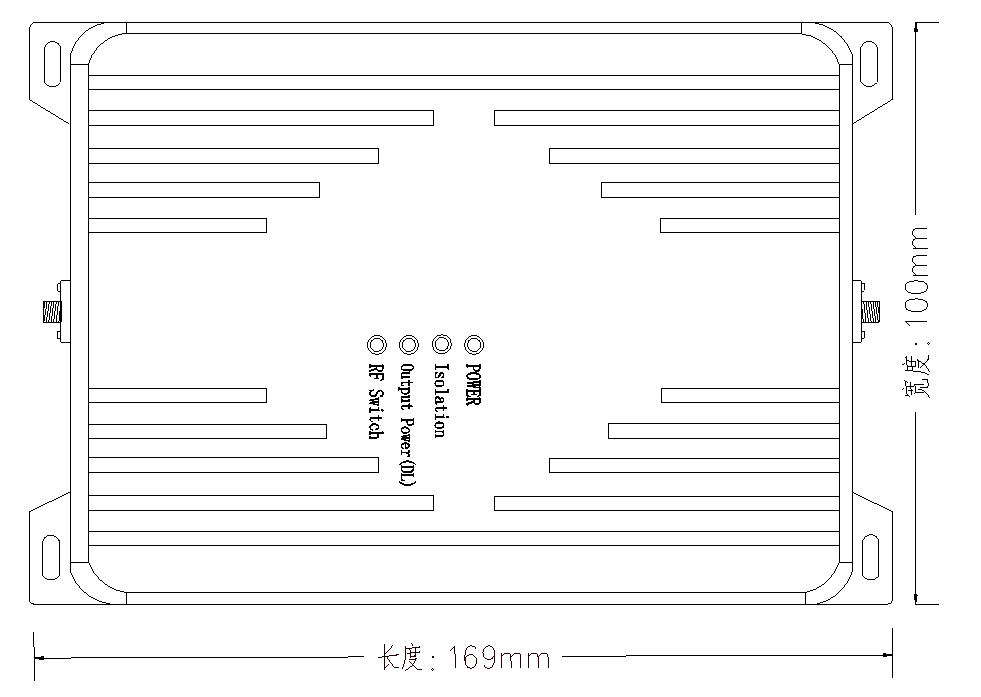 4. Introduction of indicator light of equipment
Indicator light identification

Indicator status

Description

Power Indicator

POWER

The light is always on

Power on equipment

Light out

Equipment power failure

Lower output power indicator

Output Power(DL)

The light is always on

Equipment full power output Pmax ± 2dBm

Light flashes

Output power in (Pmax-3 ~ Pmax-15)± 2dBm

Light out

Output power ≤(Pmax-16dBm)± 2dBm

Isolation indicator

Isolation

red and green double color lamp

The light is always on

Isolation is too small, enter the equipment protection function

Light flashes

Poor isolation

Light out

Good isolation

TDD Sync Indicator

RF_Switch

The light is always on

On synchronization

Light out

Step-out

Precautions for use: in order to ensure normal communication in actual use of this equipment, it is necessary to ensure that the "Isolation" indicator lamp appears "off" and the "RF_Switch" indicator lamp needs to be "always on".
---
* Note: Please be sure to fill in the information accurately and keep the communication unblocked. We will get in touch with you as soon as possible.